The locations were compiled by Hans Röthlisberger.
---
Meeting place Kehr Langnau im Emmental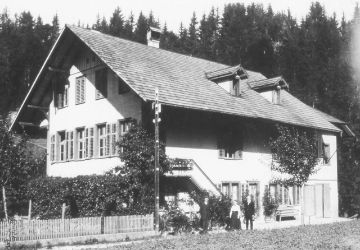 The house in Langnau was built in 1888 as one of the first meeting places of the Swiss Mennonites and was extended several times thereafter. The picture shows the view of a historical photograph taken around 1940.
In 1899, association houses were added in Bomatt (Zollbrück) and Bowil.
Guided tours are possible by appointment. Visit us without obligation at a service.
You are cordially invited!
---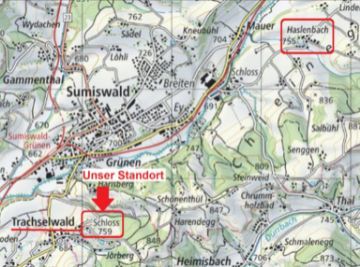 Here lived the last Anabaptist, who was sentenced to death by the Bernese government in 1571. A song with 32 stanzas tells how he was "judged from life to death". In this exhibition, the stanzas can be read to the melody of the Haslenbach song in the "Shame and Disgrace" room.
At the farm in Haslenbach there is a small exhibition, which can be visited by appointment.
---
In 1659, an Anabaptist meeting on the Dürsrüti above Langnau was attacked by the henchmen of the bailiff of Trachselwald. The Anabaptist preacher then presented himself to the pursuers and was led away. The events are described in 21 stanzas in a song.
In the exhibition, the stanzas can be read to the melody of the song in the room "Pious and Free".
(The original house was destroyed by fire).
---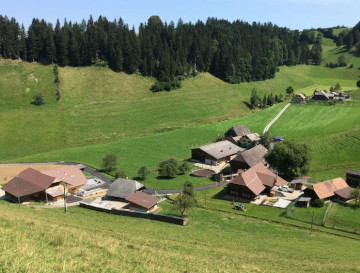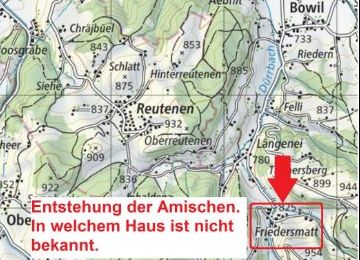 In 1693, in the hamlet of Friedersmatt near Bowil, the great inner-Anabaptist strife occurred and the Amish came into being.
Jakob Ammann of Erlenbach in the Bernese Oberland demanded strict church discipline, which was rejected by the Anabaptists in Emmental. Jakob Ammann found followers in the Simmental, the Palatinate and other places. Many "Amish" later emigrated to Pennsylvania. In the room "Persecuted and Expelled" there is more information about this.
See: www.mennonitica.ch "Weil es teufferlet", by Hanspeter Jecker.
---
Anabaptist hideout, Fankhaus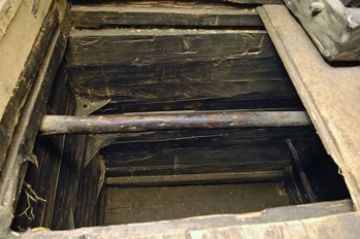 On the farm Hinter Hütten in Fankhaus (Trub) is the last still accessible Anabaptist hideout in Switzerland.
At the time of the Anabaptist persecution, it served as a place of refuge from the Anabaptist hunters of the bailiff of Trachselwald.
The Fankhauser family has set up a comprehensive exhibition on the subject of "The Anabaptist hideout and its history" on their farm Hinter Hütten.
A visit to the museum, culinary delights and guided tours are available by appointment.
---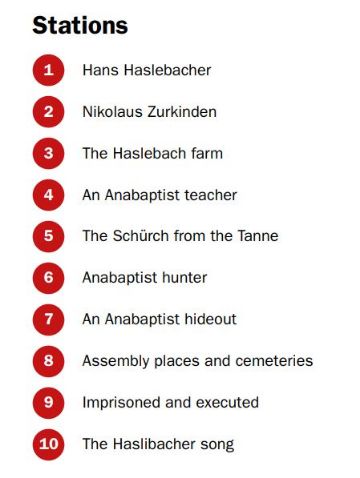 A visit to the Anabaptist exhibition can also be combined with a circular hike (about 8km). Ten signs point to the life of the Anabaptists.
See Anabaptist Way (More than 28 pages describe what is happening in these places.)